A Celebration of Joan Brown
THE WOMEN'S COMMITTEE OF CARNEGIE MUSEUM OF ART
A Celebration of Joan Brown
Thursday, September 14, 2023
5:30-8PM
Carnegie Museum of Art's
Forbes Avenue Fountain Courtyard
Cocktails and Hors d'Oeuvres
Enjoy a last opportunity to view Joan Brown, a survey of 44 objects, including paintings and sculptures that traces the depth and evolution of the artist's 35-year career as a painter.
Gather around the fountain to celebrate, then enjoy special access to the exhibition with the museum's docents.
(A rain plan is in place.)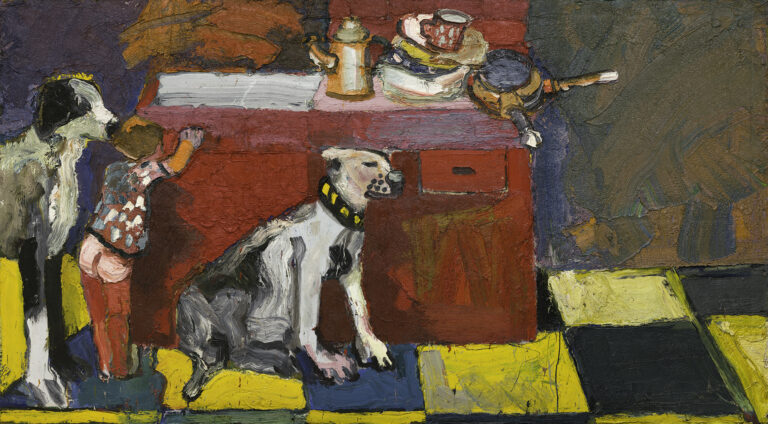 Joan Brown, Noel in the Kitchen, 1964, oil on canvas; 60 x 108 in. (152.4 x 274.32 cm), San Francisco Museum of Modern Art, Bequest of Dale C. Crichton ©️ Estate of Joan Brown photograph: Katherine Du Tiel
Our Extraordinary Supporters
Diamond Donors
Vivian and Bill Benter
Betsy and Doug Branson
Ellen Still Brooks
Margot and Greg Curran
Annie and Gus Engel
Mary Louise Gailliot
Elizabeth and Worth Hobbs
Janet and Bill Hunt
Catherine Loevner
Susan and Marty McGuinn
Gail and Tom Murphy
Jennifer and Jay Muse
Jessica and Tim O'Brien
Helana and Bill Pietragallo
Gabriela and David Porges
Georgia and Christopher Rossi
Lea Simonds
Mary Margaret and Lloyd Stamy
Barbara and Ngoc Thai
Women's Committee, Carnegie Museum of Art
Event Co-Chairs
Kathe Barge
Stacey Curliss
Carrie Casey Leemhuis
Nancy Tabbara
Ann Todd
President
Jennifer J. Muse
The Women's Committee operates as an independent, non-profit 501(c)(3) corporation registered with the Commonwealth of Pennsylvania. A copy of the registration and financial information for the Women's Committee, Carnegie Museum of Art, may be obtained from the Pennsylvania Department of State by calling toll-free: 1.800.732.0999 within Pennsylvania. Registration does not imply endorsement.