HOLIDAY SPLENDOR

Carnegie Trees 2022 Opening Celebration
Friday, November 18, 2022
Cocktail Party


5:30 – 8 pm




Hall of Architecture
Elegant Seated Dinner –

SOLD OUT


8 pm


Music Hall Foyer
This year's theme is "Holiday Splendor," signifying a return to the magnificent joy and wonder of the holiday season. Notably, the 2022 Carnegie Trees Opening Celebration will kick off the museum's festive holiday season before Thanksgiving for the first time. While the Carnegie Trees typically attract over 75,000 museum guests annually, we hope the early launch will entice even more visitors to the museum over the duration of the entire holiday season.
Please join us for Trees 2002!
Special thanks for the generous contributions from: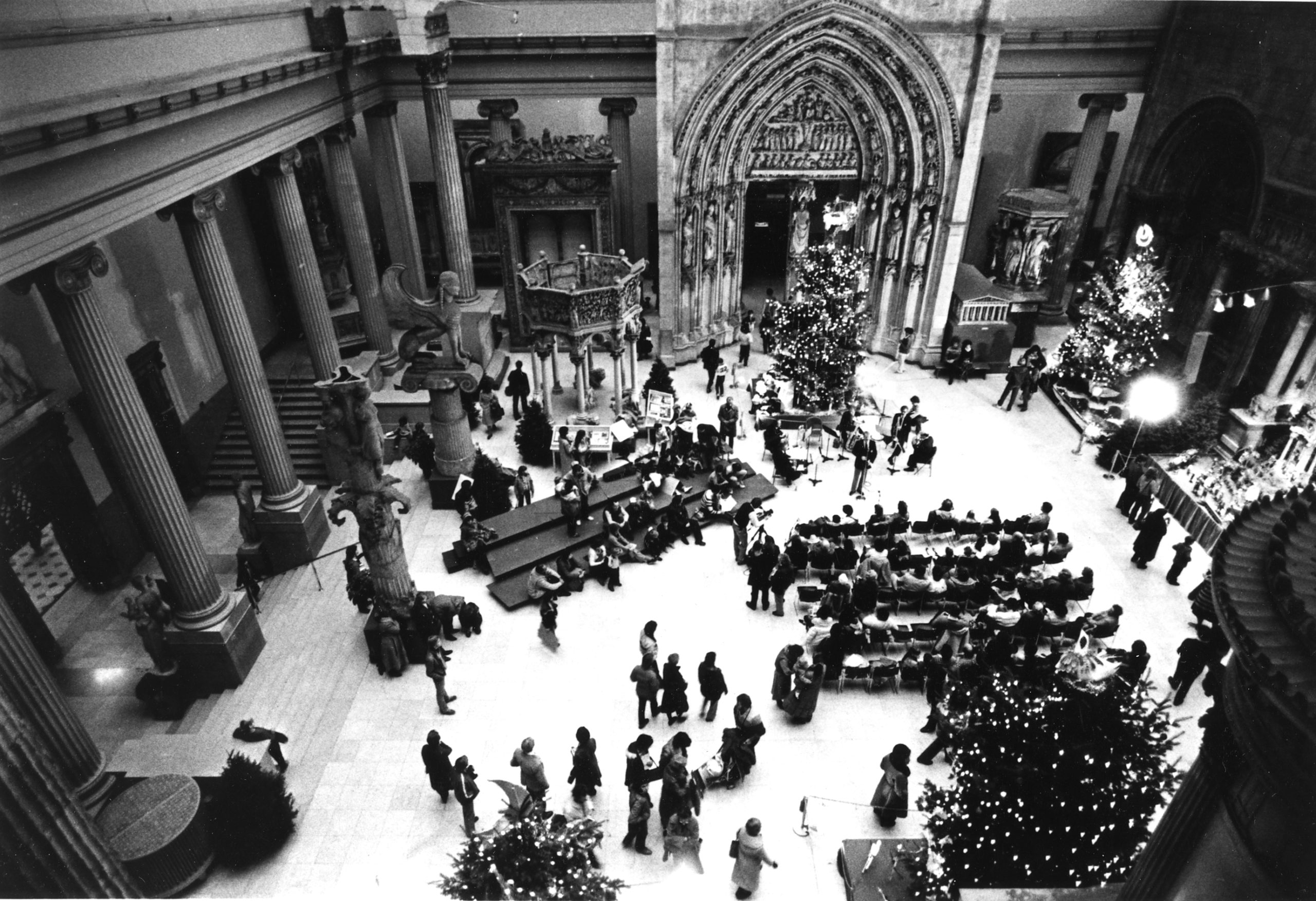 The Carnegie Trees Tradition
Since 1961, the annual installation and decoration of the soaring evergreens in the Hall of Architecture, fondly known as "The Carnegie Trees," has been the signature tradition of the Women's Committee of the Carnegie Museum of Art, which underwrites and facilitates the trees as its gift to the Pittsburgh community.  Your support of this annual fundraiser ensures the Women's Committe's financial support of the Carnegie Museum of Art.
The Women's Committee extends its gratitude to:
Culinaire
Calligraphers Guild of Pittsburgh
Eisler Nurseries
The Rick Purcell Trio
The Staffs of the Carnegie Museums of Art and Natural History
Carnegie Trees Committee Members
Mernie Berger
Barbara Biglan*
Maria Burgwin
Katy Caliguiri
Mimi Erving
Ranny Ferguson
Anne Fisher
Kate Freed
Lou Gailliot
Barbara Granito
Jean Anne Hattler
Carol Heppner
Molly Howard
Janet Hunt
Mike Kamin*
Betsy Magley
Jamie Magovern
Carol McCague
Peggy McKnight
Karen Lally Meck
Gail Murphy
Carrington North
Lois Pruitt
Sandy Roberts
Alexandra Robinson
Georgia Rossi
Mardi Royston
Tara Safar
Carolyn Sanford
Linna Sawicki
Nancy Tabbara*
Barbara Pippin Thai
Sybil Veeder
Ann Wertz
Susanne Wilkinson
Grace Wolf*
*Friend of the Women's Committee
Carnegie Trees Host Committee
Vivian and Bill Benter
Betsy and Doug Branson
Ann and Paul Bridges
Ellen Still Brooks
Margot and Greg Curran
Mary Louise and Henry J. Gailliot
Barbara and Mike Granito
Janet and Bill Hunt
Susan and Marty McGuinn
Gail and Tom Murphy
Jennifer and Jay Muse
Carrington North and Douglas Holmes
Helana and Bill Pietragallo
Mary Margaret and Lloyd Stamy
Barbara and Ngoc Thai
Lucila Andrich
Sam Badger
Elizabeth Barker
Ritchie Battle
Barbara R. Biglan
Susan and Michael Boyle
Laurie and Jim Bly
Jennifer Braham
Eliza Smith Brown
Dr. and Mrs. Lawrence A. Bucklew, Jr.
David Bush
Nancy and Ed Byrnes
Karen Caddick
Carrie Casey
Meg and George Cheever
Liza Christ
Eric Crosby
Bianca D'Elia
Debra Kline Demchak
Antoinette DePasquale
Lynn and Chip Desmone
Deborah Dick and Arthur Stroyd
Annie Hanna Engel and Gus Engel
Ranny and Jay Ferguson
Anne Fisher
Dawn and Chris Fleischner
Michael Foster
Kate Freed and Jack Brice
Anne Gailliot
Jean Anne Hattler
Elizabeth and Worth Hobbs
Joseph E. Imbriglia, M.D.
Margaret Izzo
Emily Jamison
Becky Jarold
Carole and Daniel Kamin

Ellen Kessler
Diane and Steve Knapp
Henry W. Krakovsky, Jr.
Sara Leone
Kurt J. Lesker IV
Lauren Levant Interior
Catherine Loevner
Betsy and Stephen Magley
Dr. and Mrs. George J. Magovern, Jr.
Janet R. Markel
Kit McClure
Ann M. McGuinn
Peggy McKnight
Timothy McVay
Diana Misetic and Chuck Snyder
Josephine B. Moore
Kennedy and Gordon Nelson
Jessica and Timothy O'Brien
Karen Oberg
Sloan Overstrom
Sarah Meehan Parker
Sarah and Bill Pietragallo
Gabriela and David Porges
Sandy Roberts
Georgia and Chris Rossi
Linna Sawicki
Sharon and Robert Sclabassi
Virginia Simmons
Mrs. Lea H. Simonds
Loretta Stanish and Rick Russell
Nancy Tabbara
Janie and Harry Thompson
Mary and Rich Weber
Susanne Wilkinson
Liz and Dan Wilson
Elizabeth Stroyd Windsor
Jeanne B. and Richard F. Berdik
Bonnie and Vaughan Blaxter
Nancy G. Brownell
Cynthia Cooley
Dolores F. Ellenberg
Beverlynn Elliott
Edith H. Fisher
Stephanie Flannery
Mrs. Nancy E. Gruner
Nina Gusmar
Molly and Ben Howard
Courtney Jones
Marcia Kelson
Mollie Hanna Lang

Michelle M. Maola
TJ McCrady
Rebecca F. McGough
Karen and Jack Meck
Wendy Mitchell
Mr. and Mrs. Michael Morris
Anne and Scott Reid
Gayle and Bill Simpson
Bridget B. Snyder
Maya Tuttle
Sybil P. Veeder PhD
Tracey and Carey Vinson
Ellen C. Walton
Stacy Weiss
Anne Gailliot, Chair
Bianca D'Elia and Libby Windsor, Party Co-Chairs
Sara Leone and Sarah Meehan Parker, Trees Installation Co-Chairs
Holiday Gifts
Gez Ebbert, Sandy Ekstrom, Jennifer Muse
Gingerbread Holiday
Lucila Andrich, Ann Bridges, Ranny Ferguson, Mary Margaret Stamy
Shades of Splendor
Loretta Stanish, Liz Wilson
It's the Most Music-ful Time of the Year!
Eliza Smith Brown, Katie Jones
Flight of Fantasy
Carole Kamin, Lauren Levant
President of the Women's Committee
Jennifer Muse
Carnegie Trees through the years...
The Women's Committee operates as an independent, non-profit 501(c)(3) corporation registered with the Commonwealth of Pennsylvania. A copy of the registration and financial information for the Women's Committee, Carnegie Museum of Art, may be obtained from the Pennsylvania Department of State by calling toll-free: 1.800.732.0999 within Pennsylvania. Registration does not imply endorsement.