THE WOMEN'S COMMITTEE OF CARNEGIE MUSEUM OF ART
Wintry Days & Frosty Nights
Friday, November 17, 2023
Cocktail Party
5:30 – 8 pm
Hall of Architecture

Elegant Seated Dinner - SOLD OUT
8 pm
Music Hall Foyer
This year's theme is "Wintry Days & Frosty Nights," reminding us of the seasonal wonder of the holidays. The 2023 Carnegie Trees Opening Celebration will kick off the museum's festive holiday season before Thanksgiving. Carnegie Trees typically attract over 75,000 museum guests annually and brings visitors to the museum over the duration of the entire holiday season.
Please join us for Trees 2023!
Special thanks for the generous contributions from:
The Women's Committee extends its gratitude to:
Culinaire
Calligraphers Guild of Pittsburgh
Eisler Nurseries
The Rick Purcell Trio
The Staffs of Carnegie Museums of Art and Natural History
Carnegie Trees Committee Members
Lynn Bainbridge*
Barbara Biglan*
Maria Burgwin
Mimi Erving
Ranny Ferguson
Anne Fisher
Mollie Fitzgerald
Kate Freed
Lou Gailliot
Barbara Granito
Judy Grune*
Jean Anne Hattler
Carol Heppner
Molly Howard
Janet Hunt
Courtney Jones
Michael Kamin*
Wallis Katz
Carrie Casey Leemhuis
Catherine Loevner*
Betsy Magley
Jamie Magovern
Peggy McKnight
Karen Lally Meck
Lois Pruitt
Georgia Rossi
Tara Safar
Linna Sawicki
Loretta Stanish
Nancy Tabbara
Barbara Pippin Thai
Ann Todd
Sybil Veeder
Ann Wertz
Susanne Wilkinson
*Friend of the Women's Committee
Carnegie Trees Host Committee
Vivian and Bill Benter
Betsy and Doug Branson
Ellen Still Brooks
Margot and Greg Curran
Debbie Demchak
Annie and Gus Engel
Mary Louise Gailliot
Barbara and Mike Granito
Elizabeth and Worth Hobbs
Janet and Bill Hunt
Catherine Loevner
Susan and Marty McGuinn
Gail and Tom Murphy
Jennifer and Jay Muse
Jessica and Tim O'Brien
Helana and Bill Pietragallo
Gabriela and David Porges
Georgia and Christopher Rossi
Lea Simonds
Mary Margaret and Lloyd Stamy
Barbara and Ngoc Thai
Lucila Andrich
Drs. Barbara and Al Biglan
Ann and Paul Bridges
Eliza Brown
Karen Caddick
Kanika Capel
Maria and Samuel Cordes
Eric Crosby
Bianca D'Elia
Debbie Dick and Art Stroyd
Gez Ebbert
Ranny and Jay Ferguson
Anne Fisher
Michael Foster
Kate Freed and Jack Brice
Anne Gailliot
Jean Anne Hattler
Mimi Erving Humenik
Margaret Izzo
Emily Mack Jamison
Carole and Daniel Kamin

Marcia C. Kelson
Diane and Steve Knapp
Sara Leone
Betsy Bechtolt Magley
Jamie and George Magovern
Carol and James McCague
Peggy and Stephen McKnight
Laura Miller
Josephine B. Moore
Carrington North and Douglas Holmes
Sarah Parker
Kathleen Patrinos
Sean Riddle
Mardi and Jim Royston
Carolyn and Scott Sanford
Linna and Glenn Sawicki
Sybil P. Veeder
Ellen C. Walton
Susanne Wilkinson
Elizabeth Stroyd Windsor
Samuel Badger
Nancy Brownell
Liza Christ
Cynthia F. Cooley
Nancy C. Fales
Marcy and David Gookin
Judy Grune
Ina and Larry Gumberg
Molly Howard
Cindy Ingram
Patricia and Jeffrey Kendall
Carrie Casey Leemhuis
TJ McCrady
Ann Muldoon McGuinn


Karen and Jack Meck
Wendy Mitchell
Kennedy and Gordon Nelson
Sloan and Alex Overstrom
Sarah Pietragallo
Tracey and Tom Reading
Sandy Roberts
James M. Scott III
Gayle and Bill Simpson
Mr. and Mrs. Harry A. Thompson II
Lisa Vujevich
Stacy Weiss
Liz and Dan Wilson


Anne Gailliot, Chair
Bianca D'Elia and Elizabeth Stroyd Windsor, Party Co-Chairs
Sara Leone and Sarah Meehan Parker, Trees Installation Co-Chairs
A Winter's Eve
Gez Ebbert, Sandy Ekstrom, Jennifer Muse
Winter Fun
Lucila Andrich, Ann Bridges, Gail Murphy, Mary Margaret Stamy
Après-Ski
Margot Curran, Liz Wilson
It's Snowing All Over the World!
Eliza Smith Brown, Katie Jones
Winter Solstice in Flight
Carole Kamin, Lauren Levant
President of the Women's Committee
Jennifer Muse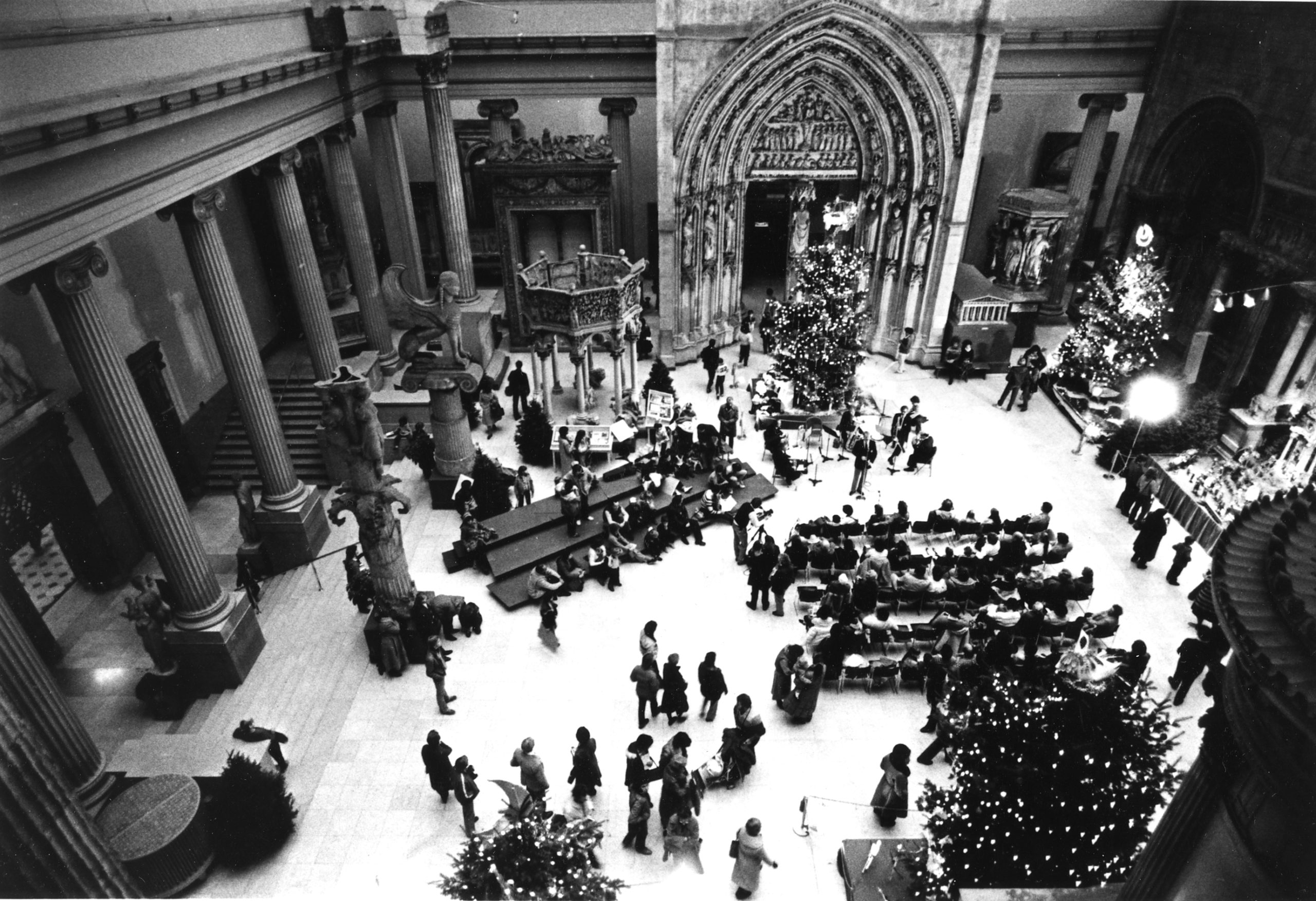 The Carnegie Trees Tradition
Since 1961, the annual installation and decoration of the soaring evergreens in the Hall of Architecture, fondly known as "The Carnegie Trees," has been the signature tradition of the Women's Committee of Carnegie Museum of Art, which underwrites and facilitates the trees as its gift to the Pittsburgh community.  Your support of this annual fundraiser ensures the Women's Committee's financial support of Carnegie Museum of Art.
Carnegie Trees through the years...
The Women's Committee operates as an independent, non-profit 501(c)(3) corporation registered with the Commonwealth of Pennsylvania. A copy of the registration and financial information for the Women's Committee, Carnegie Museum of Art, may be obtained from the Pennsylvania Department of State by calling toll-free: 1.800.732.0999 within Pennsylvania. Registration does not imply endorsement.